Cove invests in smaller multifamily real estate private equity both directly and by partnering with smaller, experienced operators across the US. We intentionally avoid competing in the same crowded space as much larger institutional players. We offer opportunities to a limited number of select investors on a deal-by-deal basis.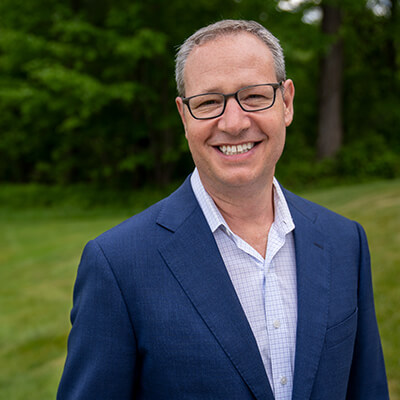 David Gerber, CFA - Managing Member
Prior to launching Cove Investments, David was an Analyst and Portfolio Manager at Putnam Investments and an Executive Director at UBS. David has participated in over $120M in transactions involving nearly 1,800 units as both a general and limited partner.
David graduated from Trinity College in 1992. In 2020, he completed a certificate program in Commercial Real Estate through Cornell University.
Having spent most of his life in the Boston area, David recently moved north to Yarmouth, Maine where he, his wife, and two teenage children hope to get their fill of lobster.
Disrupt Equity Investors is a private real estate investment firm focusing exclusively on the multifamily sector. Disrupt Equity specializes in value-add and opportunistic real estate investments in need of recapitalization, repositioning, or significant renovation in select metropolitan markets. Disrupt Equity was founded by Ben Suttles and Feras Moussa, and the group is based in Houston where the team has hosted one of the largest Multifamily Meet-ups in the area.
Disrupt Equity focuses on properties where a value-add strategy can be implemented through renovation of unit interiors and upgrades to the common area amenities. The Company targets apartment communities comprised of roughly 100 to 350 units located in strong, infill rental markets in select metros nationwide. Their recent focus has been in Texas and Georgia which offer attractive long-term supply-demand characteristics. The Company oversees over $50 million in assets with an additional $40 million in the pipeline.
Mission Bay Capital Partners
Mission Bay Capital Partners' mission is to provide people with an opportunity to grow their wealth through quality real estate assets. Located in Northern Virginia and investing throughout the United States, they have been acquiring multifamily property since 2013. MBCP believes wholeheartedly that real estate is the best vehicle to achieve wealth and passive income and their goal is to help investors achieve their financial goals and build legacy wealth. 
Javelin 19 is a Washington, DC-based real estate investment and Opportunity Zone advisory firm with more than $155 million in investments and transactions and a leader in the new Opportunity Zone ("OZ") area. Javelin 19 pursues both on- and off-market opportunities utilizing their extensive industry network. The Company partners with an experienced management company and equity investors.
Javelin 19 is led by Jill Homan, a fifteen year veteran of real estate development. Ms. Homan is co-developing a $52 million multifamily project in an Opportunity Zone and raising OZ capital. She has applied her knowledge of emerging communities and her expertise in policy and real estate to advise investors and developers on the OZ program. Ms. Homan has been a featured panelist on numerous past and future OZ programs.

Indigo provides institutional-quality asset management services to its clients. Cove and Indigo have agreed to find ways to leverage Indigo's deep skillset and breadth of experience to the benefit of Cove's investors. Indigo started as an in-house real estate asset manager for a single family office. Now independent, Indigo's team oversees more than $500M in real estate investments.