We and our partners have remained intensely focused on operations and tenant engagement since early March. For now, our on-site property management teams have done a great job navigating the operational challenges of COVID. We've found ways to manage work requests, rent collections, and leasing engagement within the constraints of social distancing.
According to the National Multifamily Housing Council (NMHC), collections have been running in the low 90s across the US. While lower than the comparable periods in 2019, this is much better than we and others in the industry feared at the onset of the crisis. This data is largely consistent with our experience across our portfolios.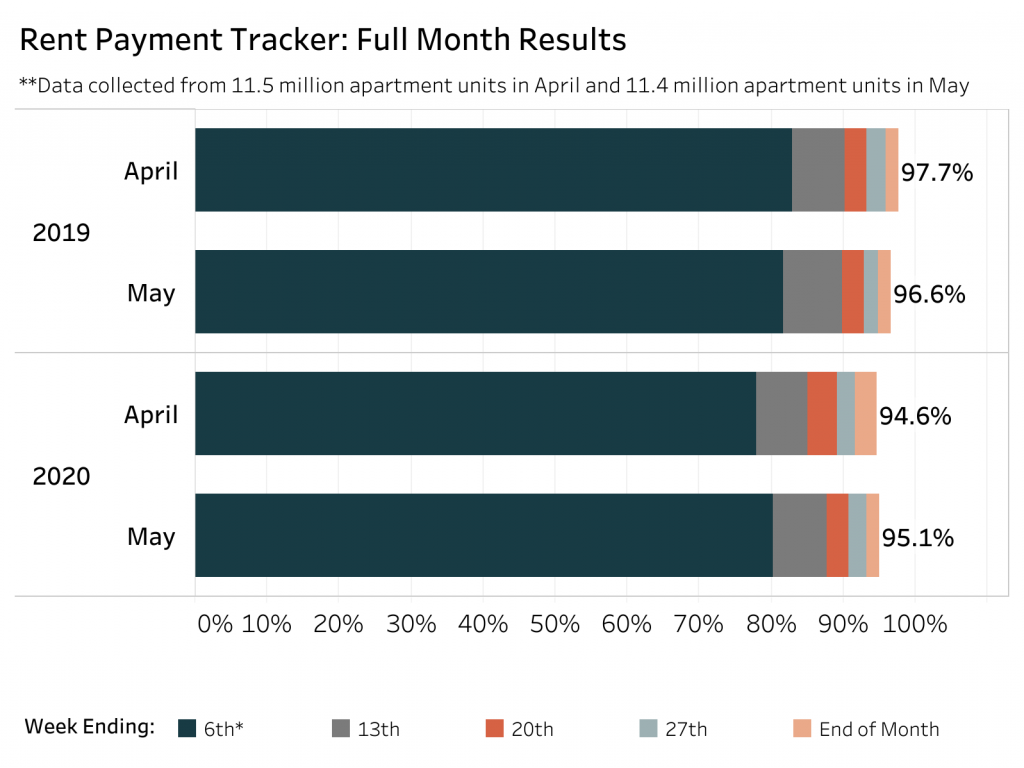 As you can see in the data above, and in contrast to highly publicized rent strikes in several cities, most tenants continue to pay their rent by the end of the month. While payments are arriving later than many owners would like (see the weekly breakdown in the bars), actual delinquencies have been manageable and improving.
From anecdotal conversations across the industry (operators, investors, bankers), there are many exceptions to this relatively benign environment. Buildings located in less landlord-friendly markets and those without professional property management on-site have found the past few months more difficult.
Anybody can buy an asset. That's not hard. It's when times get tough that you need dedicated operational professionals on your team. That's when you learn if you're working with the right partners. Over the past few months, it's been increasingly clear to us that we are.
Operational Flexibility Matters
Having directly participated in more than a dozen asset management calls since March, it's been impressive to witness how well these professionals have balanced the needs of the business with compassion. They've taken great care to ensure that tenants have been contacted proactively, that emergency maintenance requests are addressed immediately, and also that outstanding bills are collected.
In these extraordinary times they've also shown necessary and appropriate flexibility. They've made temporary arrangements to tenants who have lost jobs but not yet received unemployment benefits or stimulus checks. They've trained employees on maintaining proper sanitary conditions in public spaces and on complying with social distancing policies.
One of our partners, Disrupt Equity even leaned on their tech skills to build a Wikipedia style resource for their residents. The site provided information and direct links to apply for unemployment and charitable assistance programs, and direct links to major employers with job openings.
Economic Challenges Ahead
Across our portfolio, we've managed through these operational challenges quite well, so far. We're far from complacent. The indirect economic fallout from this crisis remains highly uncertain, as does its impact on our properties and our residents. Fortunately, we operate in the B and C Class segments where average rents are still relatively affordable options for those with jobs and for many who will rely on unemployment programs.
When or if Congress discontinues its $600 enhanced unemployment benefits, currently slated for the end of July, we can expect some pressure on our rent collections. Keep in mind the average one-bedroom apartments across our portfolio rents for roughly $800/month, so that $600 has made a big difference to our tenants' ability to pay.
We'll no doubt have more anticipated surprises as we move forward. Having passed some early tests, we'll accept these challenges with renewed confidence in our partners on the ground. We'll continue to engage our tenants proactively and with compassion.
Not only is that good business, it's the right thing to do.